SEM (search engine marketing) is a form of internet advertising that is focused on bringing in traffic to your website via search engines.
It raises your website to the top of SERP results but requires a large budget to generate a large revenue.
With SEM, advertisers bid on keywords and phrases relevant to their business in order to show up when someone searches for those terms.
But there are so many different companies and networks out there!
How does one choose the right one? Which networks will give you the best results? You'll never know unless you do your research!
Additionally, using one of the best SEM tools is also necessary to improve your ad campaign performance.
Luckily, we've compiled a list of SEM Hacks to help you improve your ad campaigns today and also recommend among the best SEM tools you can use.
There are few or no clicks
So, you have planned your ad campaign and are running it now with the expectation of good results? It's important to know your audience if you want to get clicks.
For better results, choose keywords that describe the user's search intent and their place in the buyer's journey. Also, remember that Google is not going to value ads that are not based on a user's keywords.
So, keyword research can assist you in targeting those that meet Google and the user's expectations. Only then will your ad campaigns be able to gather clicks and get high engagement.
To do the keyword research, you can use the Semrush PPC keyword SEM tools.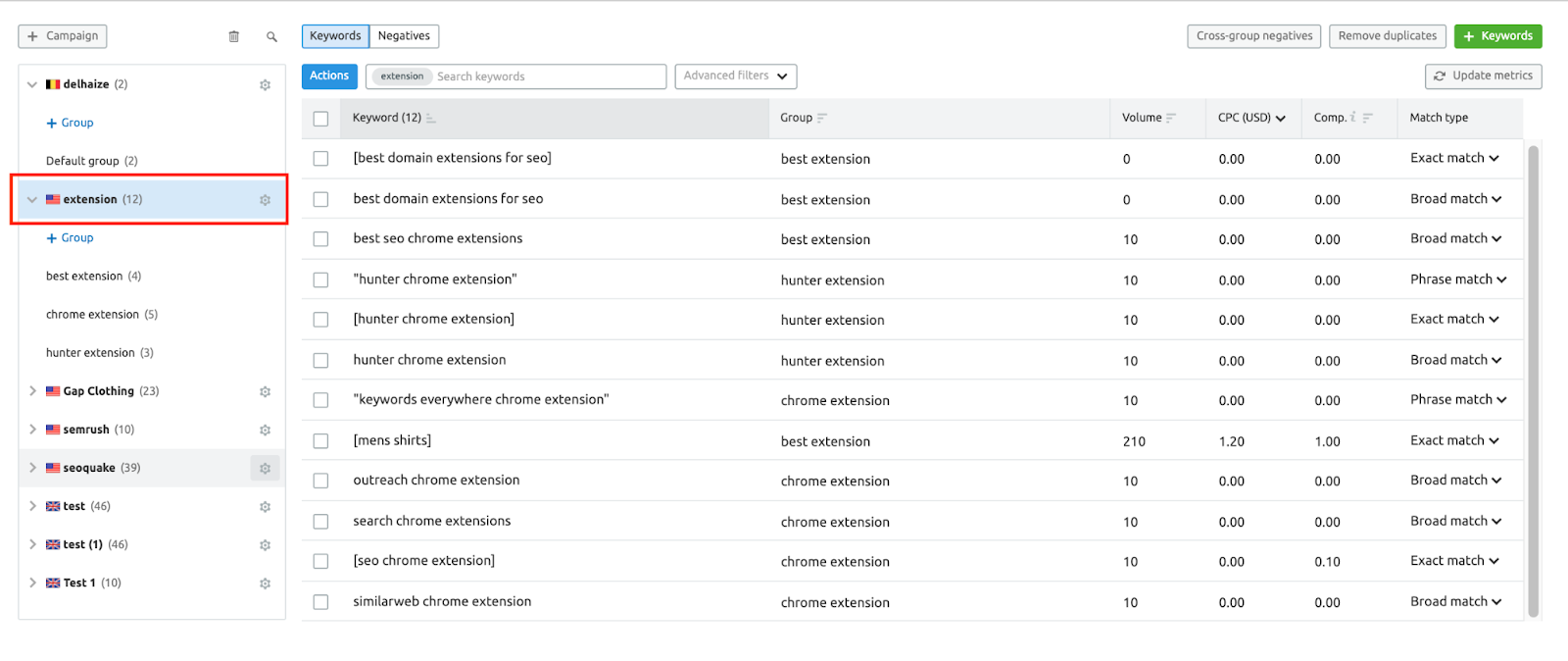 It helps in collecting and organizing all the keywords from various sources in CSV format. Apart from that, it can filter your keywords by eliminating useless characters. You can also remove duplicate keywords or group them by campaigns.
Another tool to use is the Semrush Keyword Magic tool, which helps you find relevant keywords for your SEM campaign.
The tools also deliver metrics so that you can view a keyword's search volume and competitive density.
Competitors outperform your bids
Your competitors can be smarter than you. Although your SEM campaign is running and your budget is okay, your ads may not appear on the SERP pages you have targeted.
It's obvious that it will happen when your competitors are one step ahead with their bid.
In such cases, you need to figure out what is driving the success of your competitors.
Try to find the strategy they are following so that you can target your keywords in a better way.
Maybe, you will end up discovering more keyword opportunities.
Be clever and perform competitor research to access your competitor's keyword, CPC, keyword density, and more.
The Semrush Advertising Research SEM tools will help you with this.
You just have to enter your competitor's domain to begin.
Now, you will get an overview report, check their paid search trends, and many other details.
Performance Tracking
Every marketer aims to measure the performance of their SEM strategy, and it's possible only by tracking keyword positions.
With keyword position tracking, you can find out the keywords that your competitors are using to get higher rankings.
Position tracking is your solution for enhancing your content and looking forward to other elements of the SEM strategy.
It will alert you when your competitor targets or ranks for the same keywords as being used by your brand.
Mainly, it entirely automates the position tracking process and creates data-driven decisions.
This SEM tools receives daily updates, so you can target multiple geographical locations and devices in a single project.
In addition, you can also check which pages are acquiring the highest volume of traffic.
Final Thoughts
SEM is a tedious process, but with some of these hacks, it doesn't have to be.
We've all heard of the term "SEM" and how it's so important to your business. But let's be honest, it can be hard to know how to put all the pieces together.
We hope that this blog has been able to help you understand Semrush SEM tools and it will help you put together an awesome campaign to help improve your business.
It is a big topic, and we would love to keep providing you with information on it, so let us know if there's anything you'd like to read about in the comments.