For SEO purposes, Schema Markup is one of our favorite site optimization techniques.
It is a powerful method to boost the relevancy of your site.
Not only this, the schema can be crucial for the success of your SEO campaign too, and that's a reason for incorporating it into your business.
Being in the digital marketing field, we have used schema markup a lot for improving click-through rates on our website.
Adding it to your site allows the search engine to understand more about your business and the website, and the relations behind the present entities.
This is why schema markup is valued by SEO marketers.
In this article, we are going to teach you some basic to advanced knowledge regarding schema markup.
Introduction to Schema Markup
Schema Markup is a structured form of data that assists search engines in understanding the contents present on your site.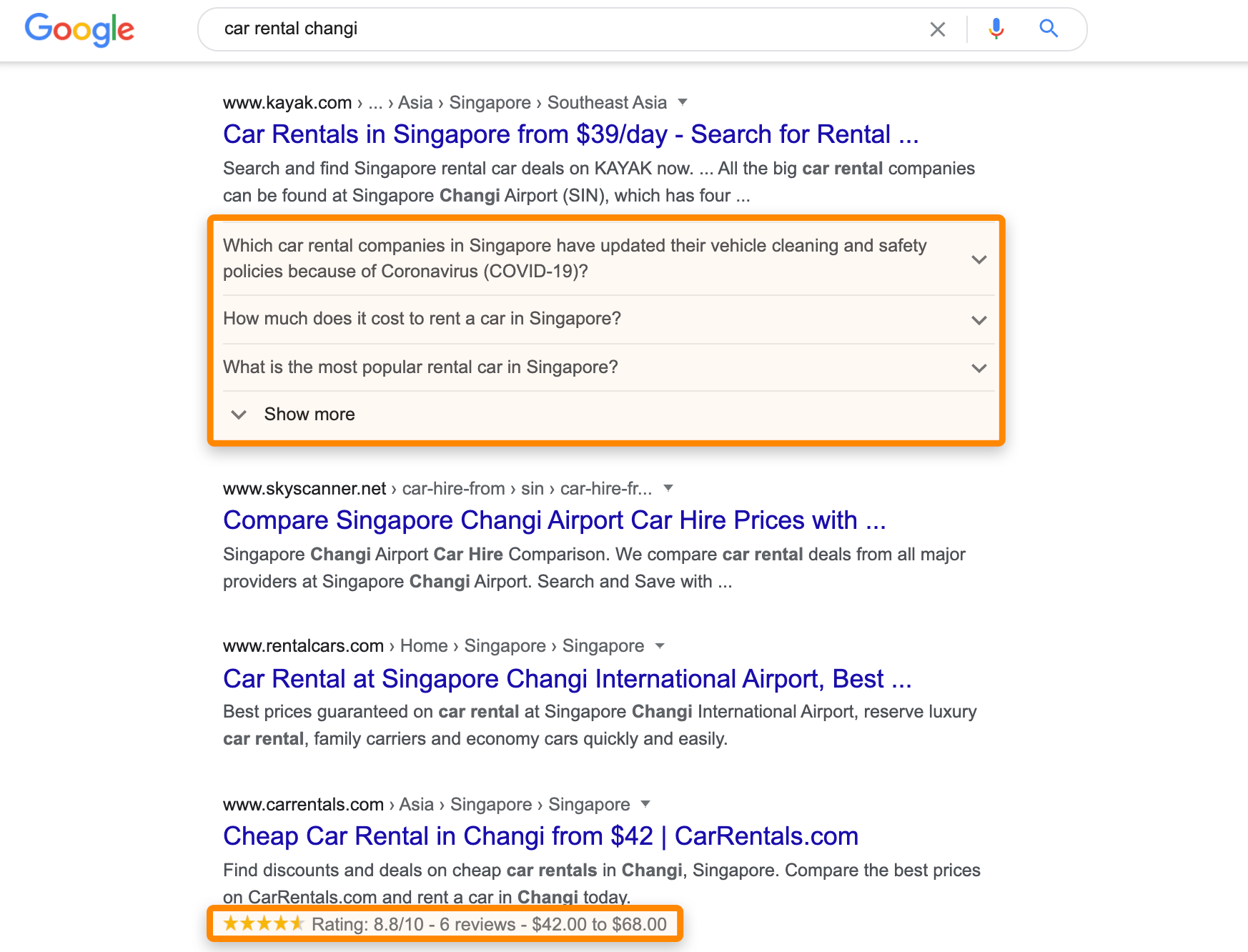 Further, it helps the users in getting the desired information through search engines. Thus, it helps both the website owners and the users.
Website developers or SEO marketers can add schema markup to your site using pre-defined HTML tags. When the same tags are used in a group, they are called as structured data.
If you want to view them, it's not possible as they aren't visible to users. Only search engines can read them while crawling the pages.
How schema markup benefits your business?
Identification of Data
Schema markup helps the search engine in the identification of your site data to present it in a better form to the users.
For instance, imagine the word "toolforbusiness" show in an article.
The search engine crawler will index it and produce the result with the same entry.
Now, if we will add a schema markup, then the result will be presented in a different way.
You can take another example here in which the rating of the game is written below the site description.
It's a form of schema markup that tells the search engine to show the rating of the site.
Improvement in Click-Through Rate
Suppose you are scrolling on a search engine after typing a search query related to a product.
We know the basic description with the product's site would not be enough for a customer.
You might be looking for customer rating, price, and other information too.
Some site owners add the schema markup of price and rating too also on their product's site.
This already lets the user know whether it's worth clicking on the URL or not.
According to the Search Engine Land, you can get a 30% increase in click through rate on your website using schema markup.
So, be smart and include schema markup in your website.
Brings Traffic
Using microdata on your website, you can enhance the visibility of your website.
In this, rich snippets has the main contribution.
More traffic will reach, but there will be no direct impact on organic ranking.
However, an increase in traffic is good for your brand.
Best for Local SEO
Schema is considered best for local SEO because you can supply more details like address and contact about your local business to the search engine.
When combined with the Google My Business page, it can improve local SEO.
Besides local SEO, schema markup can boost the performance of voice SEO.
For example, while performing any voice search on Google, you will get voice response only when featured snippet is added there.
Hence, you can accelerate your ranking in Google featured snippet using structured data.
Optimizes Google Shopping Campaigns
Nowadays, some businesses are using Google schema markup for successful running of shopping campaigns.
When creating any shopping campaign on Google Ads, you have to add microdata to your product landing pages. Google will verity and submit the same in the shopping feed.
This is the right way of optimizing your shopping campaigns, which will increase your sales too.
AMP Pages
Accelerated mobiles pages depend on schema markup to serve users with advanced features.
If you wish to see AMP pages on the top stories of the mobile search results, make sure to add structured data on the AMP pages.
Types of Schema Markup
There are 100+ types of schema markup, but putting these are put simply into two hierarchies – for textual property values and the second based on what they describe.
Under types, we have various options of things and the data types consist of Boolean, date, time, number, text, DateTime, etc.
They are mainly used for representing the following:
Action
Creative Works
Products
People
Intangible
Organizations
Review
Recipes
Medical Conditions
Event
What Is The Relation Between SEO and Google Knowledge Graph?
Schema Markup Formats
All the major search engines are compatible with three formats:
JSON-LD (JavaScript Objective Notation for Linked Data) is an annotation, which can be used for implementing schema markup.
This can be implemented by embedding the <script> tag in the header or body of the page. For beginners, this is the easiest format to add schema.
It comprises a set of tags that supports you in marking up your web page. These tags can be used directly in your HTML code for adding schema.
RDFa (Resource Description Framework in Attributes)  is an HTML5 extension. You can use it for marking up metadata with HTML Tag Attribute.
Among the above three, Google prefers JSON-LD the most. It has defined all three formats as given in the picture below.
How to implement Schema Markup on your website?
As you have learned about various aspects of schema markup, it's time to discover the ways to implement it on your web pages. Here, I am showing to do this with Google Structured Data Markup Helper.
1. Visit the URL
For implementing Schema Markup on your site, open Google Structured Data Markup Helper using a web browser.
The interface will look as shown above in the picture.
2. Choose Data Type
Many options are present there to choose from. We selected "Articles" because it's one of the most used content type.
3. Paste the URL
Now the question comes that where do you want to add markup? For this, paste the URL of that site in the box given at the bottom.
Even when you don't have the URL, the page allows you to paste the HTML code of your site.
At last, you have to hit the "Start Tagging" button.
The next interface will bring the workspace where you get the options of tagging items in the right pane.
And, the left pane will show your website and its content.
4. Select the Elements
Decide the elements you want to mark up and highlight the necessary things.
For instance, our page contains content so highlight the text on your site and it will be added under the "name" data item in the right pane.
You can add more depending on your site and choice.
5. Generate HTML
Highlight other items in your list and keep adding missing tags. At last, hit "Create HTML" to get the HTML code of your page with microdata.
6. Add Schema to your Site
Now, add the generated HTML code to your CMS or website source code.
Mention the highlighted rich snippets at the right place in the code.
You can also download the HTML code directly from Google Structured Data Markup Helper and then click on "Finish".
Follow the above instructions when you click "Finish". Read the instruction carefully.
If you have added the Schema to your website code, test it with a Structured Data Testing Tool.
7 Best Keyword Research Tools (To Get Traffic & Organic Rankings)
Schema Generators 
You can try any of the below tools for the schema code generator.
Conclusion
We have given a broad idea about Schema Markup in this content.
We have also mentioned some of the tools helpful to create schema code.
If you need to test schema code on your site, many schema testing tools are there to avoid mistakes in markup use.
To implement effortlessly, you can take help of SEMrush site audit tool. It will help to access the percentage of the schema used on your website. So that, you can modify it later as per your business need.
So are you excited to launch Schema Markup in your website?
Let us know in the comment below.