Introduction
"For any SEO efforts to prosper, keywords act as the foundation".
It is an integral part of any SEO campaign, and ABOVE all, It is likely the most challenging part of it.
With the right keywords in hand, SEO marketers can drive traffic to a website and boost up its ranking.
Fortunately, there are many tools available to help you find and generate the most relevant keywords.
Apart from that, those tools give you an understanding of the competition and search volume for those keywords.
If you are an SEO marketer, we are trying to help you by reviewing some best keyword research tools.
This will improve your content marketing strategy.
Evergreen Best Keyword Research Tools
1. KWFinder
KWFinder keyword research tool comes with the potential of searching long-tail keyword ideas, which will rank higher.
It can do keyword analysis of your site as well as of your competitors.
This tool yields keyword ideas with search numbers, keyword difficulty scores, and so on.
Mainly focused on simplicity, this is one of the most famous keyword research tools in the online market.
How to use KWFinder for keyword research?
All you have to do is write the main keyword or URL, choose a location, select a language, and hit the "Find Keywords" button to get results.
A new page will appear with a list of keywords ideas and metrics to help you in choosing the right one.
In order to find the keywords that your competitors are being ranked for, go on to "Search by domain".
Enter its domain or URL and you will get the keywords that will contribute to a higher ranking on your site.
Pros
Intuitive and seamless UI with simple to use features
Built-in keywords list management tool for managing keywords easily
Produce plenty of keyword ideas instantly
Offering complete SEO tools suite
Can track more than 2.5 million keywords
Cons
Little expensive
Give some capped keywords results
2. SEMrush
If you aren't happy with your site performance, it's time to try SEMrush best keyword research tools.
SEMrush is a leading SEO tool in the marketplace that lets you do much more than you think.
There is a reason why people call it one-of-a-kind best keyword research tools.
You can perform keyword gap analysis, keyword research, competitor analysis, backlink generation, site auditing, and a lot more.
We can't deny the fact that SEMrush is a big player in the keyword research and SEO industry.
SEMrush Review 2021: Is It Worth Buying?
How to use SEMrush for keyword research?
SEMrush Keyword Magic tool allows the users to do keyword research just by entering a seed keyword. You will have to specify the location too.
As soon as you enter the data, SEMrush will display a long list of keyword ideas with some helpful metrics.
It also possesses a keyword overview tool to go discover some more data about the targeted keyword.
Pros
All-in-one SEO suite
Provide detailed insights on your site traffic
Find common keywords used by you and the competitor
Analyses entire site content and monitor its performance
Cons
Take time to get familiar with all the functions
Every feature is scattered instead of being all in one basket
3. Google Keyword Planner
Are you looking for a free keyword research tool? Your search end here.
Discover the finest and best keyword research tools offered by Google Keyword Planner.
It took me some minutes to learn the basics about keyword research in the Google Keyword Planner.
The users can choose from two given options:-
Discover New Keywords
Get Search Volume and Forecasts.
How to do keyword research with Google Keyword Planner?
With this powerful and another best keyword research tools, any individual can do FREE keyword research.
Initially, you only might face problems in setting up the account.
Google asks the users to create an Adwords campaign, but some tricks are applicable to use keyword planner without it.
Create your ads account. This will take you to the main page.
After entering into the main page, choose "Discover New Keywords".
On the next page, type the keyword or topic to get relevant ideas.
Add location and click on "Get Results".
Pros
Filtering of keywords based on search volume
Entirely free
Hyperlocal search volume
Cons
Doesn't show trends
Provide fewer metrics
4. Ahrefs
Ahrefs is a great alternative to Keyword Planner and SEMrush.
We have also observed that SEMrush and Ahrefs are great rivals of each other.
And this is clear from the similarities in their features and price tags.
In addition, the Ahrefs database has more than 7 billion keywords to choose from and 187 billion indexed pages.
No matter what, it's another ideal keyword research tool that we want to recommend.
It gives to-the-point details that will level up your SEO strategy and keyword research.
How to use Ahrefs for keyword research?
Ahrefs is loaded with a plethora of features as available in SEMrush.
However, users can perform keyword research by clicking on the Keyword Explorer tools from the menu.
Enter the seed keywords and click on the link present under "Keyword ideas".
After that, you will get a list of required keywords.
Pros
All-In-One SEO Suite
Quite Similar to SEMrush
Well organized interface
Endless Features
Helps to collect some crucial site metrics
Cons
High Cost and no free trial offer
5. SpyFu
Are you tired of seeing competitors doing better than your site?
If yes, beat your competitors by doing a competitive analysis using SpyFu.
Spyfu's best keyword research tool is specially made for studying your competitors, finding which keywords are they using for higher ranking, and much more.
It helps to identify some organic keywords for content creation.  Besides, you can get complete info about any site's organic traffic.
How to use SpyFu for keyword research?
SpyFu is the best keyword research tools 2021 which pay most of the attention to competitor research as we already told you.
So, you have to enter the competitors' site URL to begin searching for keywords.
In a few seconds, you can get the data related to estimated monthly organic clicks, competitors, organic ranking, etc.
Also, you can select the "Keyword Research" tab and begin searching with a seed keyword.
Pros
Get the list of keywords in the downloadable. CSV format
Displays competitors' ROI
Bid on the low competition and higher search volume keywords with Adwords Advisor
Delivers Superb User Experience
Cons
Limited freedom with a free version
Not good for users who target a local audience
6. Ubersuggest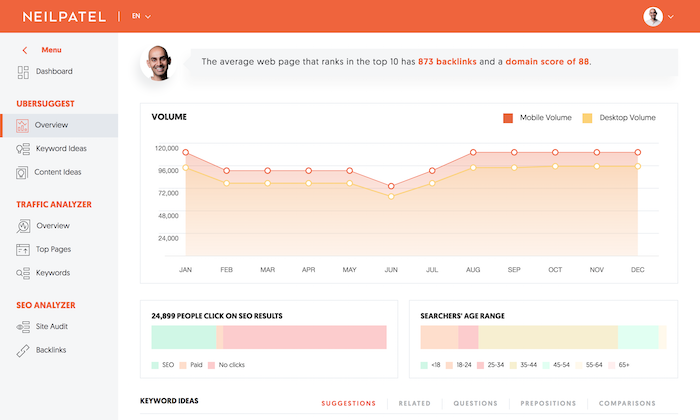 Ubersuggest is a keyword research tools by SEO king Neil Patel which is free to use.
It is packed with some basic and advanced functions.
The tool shows 100 Google results for a specific keyword along with backlinks count, domain count, number of social shares, etc.
With Ubersuggest, you can do many things relevant to SEO ranging from keyword research to generating keyword ideas and even do site auditing.
How to use Ubersuggest for keyword research?
Using the keyword ideas generation feature present under the keyword analyzer menu of the Ubersuggest tool, you can conveniently get long-tail keywords using that.
The ideas are presented with monthly search volume, average CPC, PPC, etc.
Pros
Gives keyword suggestions quickly
Able to produce seed keyword related suggestions
Free of limitations
Attractive user interface
Cons
Provides light insights instead of in-depth metrics
7. Keyword Revealer
With the best keyword research tools, tasks such as accessing a site's keyword use become much easier.
Keyword Revealer is one such tool, which enables you to search plenty of keywords at a go utilizing a seed topic or keyword.
You can get a long list of low-competition keywords.
It contains keyword research, rank tracker, and keyword brainstorming features.
The amazing thing about using Keyword Revealer is that you can download keyword without much effort.
Moreover, you can view the keywords ideas in the form of a tree and that's another reason to choose the tool.
How to use Keyword Revealer for keyword research?
Create your account or log in to an existing one. Wait for the dashboard to open.
Next, enter the keyword you want to target in the keyword field.
Select the search location and language.
In the end, hit the "Search" button to get the keyword tree.
Pros
Straightforward and intuitive UI
Keyword brainstorming
Downloadable keywords
Free Trial Option
Having solid keyword data
Cons
Limitations on evaluation and keyword research
Shows results of top 10 pages only
Price Comparison of Best Keyword Research Tools
Do you want to explore the prices of each keyword tool listed in this article? View the table below to compare and decide which tool fits your budget.
Wrapping it Up
Above are the best keyword research tools that you can use in your SEO and increasing traffic to your site.
Each of them is boasting powerful capabilities and having some unique functions.
If you intend to purchase an affordable, seamless, and a reliable keyword research tool, choose from any of the above tools.
A detailed comparison is given to you to help you in taking the right decision.
For more such articles, keep reading our blog.
And kindly, don't leave this page without appreciating our efforts to help you.