Every digital marketer is familiar with Ahrefs vs SEMrush (& they are using it FREE or PAID)
But,
Our mind goes blank when it comes to choosing between Ahrefs vs SEMrush.
This is because both are the leading and powerful SEO tools.
For an SEO marketer, it's tough to decide so we used both of them for selecting the right one.
And trust us, we were badly confused initially.
To be frank, these two SEO tools help in the identification of keywords, content optimization, and increasing the search engine ranking of your site.
Keyword plays a key role in search engine optimization so that's the basic to start with if you want to be a great SEO marketer.
Besides, having the right tool in hand is most important for keyword research.
To choose one of them for your SEO and digital marketing needs, We are here with the comparison between Ahrefs vs SEMrush.
Ahrefs vs SEMrush Overview
Both of them are equipped with similar features, but many things make them unique in their way.
But now, let's divert our focus to Ahrefs vs SEMrush.
SEMrush tool is an all-in-one SEO suite, which offers solutions related to content optimization, social media marketing, PPC, competitive research, and much more.
It is an online visibility management platform that lets you run do digital marketing with significant features.
However, it is well known for doing competitive research.
On the other hand, Ahrefs is a complete SEO suite that specializes in link building, backlink analysis, site auditing, and so on.
It is popular for SEO backlink analysis and link building.
Features Comparison
1. Keyword Research
SEMrush
In Ahrefs vs SEMrush, both are giving tough competition to each other in terms of doing keyword research.
SEMrush keyword magic tool features a large keyword database containing 20 billion keywords.
You can recognize high-ranking keywords, compare keywords of up to 5 competitors that help in finding keyword gaps and much more across various subfolders, URLs, and subdomains.
More than that, it provides keywords with accurate metrics when a user enters a seed topic.
Ahrefs
In comparison to the SEMrush keyword magic tool, Ahrefs keyword explorer has a straightforward and easy-to-understand interface.
When you enter a seed topic in the keyword explorer, it displays keyword ideas with various reports depending on keyword match types or questions based on topics (long-tail keywords).
So, it's tough to figure out from Ahrefs vs SEMrush competition, which one should you rely on for keyword research. However, with the accuracy and data relevancy, SEMrush wins.
2. Rank Tracking
SEMrush
We have worked on the rank tracking tool also so we want to share its experience too in this Ahrefs vs SEMrush guide.
With SEMrush, you get a fully empowered rank-tracking tool that can beat any SERP tracking tool.
What do you get using the SEMrush rank tracker?
This delivers complete domain visibility, average keyword position, ability to watch out for targeted keyword performance, integration to third-party reporting tools, etc.
Besides, the users can import past ranking data using third-party software.
So, are you amazed by the SEMrush rank tracking tool?
Ahrefs users can study the ranking data too quickly in an interactive and simple UI.
You can view the SEM metrics of top-ranking pages.
Regardless of that, we prefer the SEMrush position tracker.
We may be sounding biased to SEMrush but this is what has made our SEO marketing simpler and powerful.
3. Site Audit
SEMrush
Your one mistake or site error can lead to a loss in traffic.
It's crucial to fix site errors and identify potential issues using a site audit tool.
SEMrush local SEO tools set to enable the users to perform content audits and technical audits.
SEMrush site auditing tool looks for plagiarized or thinner content, broken links, and indexation problem. Additionally, it puts the issues in a sequence that requires to be addressed first.
You will discover more by using the SEMrush tool.
Ahrefs
Ahrefs does site monitoring to find more than 100 SEO issues on your website.
Along with that, it also offers solutions and ways of fixing the issues.
But here in Ahrefs vs SEMrush, Ahrefs takes the trophy, as it is compatible with JavaScript rendering.
Irrespective of that, SEMrush boasts comprehensive site auditing features so your choice should completely match your need after going through this Ahrefs vs SEMrush guide.
4. Backlink Analysis and Link Building
SEMrush
It is good for competitive analysis but not as better as Ahrefs.
In the past few months, SEMrush link-building tools have improved with a long list of a database containing billions of URLs.
The users can also identify harmful links in their profiles.
One important thing that we want to mention here is, you can't do backlink auditing or access broken link analysis report with SEMrush without creating a project.
However, Ahrefs let you do it without any need of creating a project.
In addition, you can know from where competitors are getting links using competitor backlink gap analysis.
Ahrefs
It allows reverse engineering of competitors' backlinks so that you can do link building on pages with plenty of site traffic.
Every SEO marketer is aware of the potential of Ahrefs for backlink analysis and link building.
Its index of live backlinks is too large.
Moreover, it crawls 5 million pages after every minute for finding domains and includes them in the index.
5. Competitive Analysis
SEMrush
SEMrush is a clear winner in terms of competitive analysis.
It provides deep insights into the competitor's strategy of getting traffic.
SEMrush competitor analysis can find out all the sources from where your competitor is getting traffic.
From the traffic analysis report, you can know to get all the relevant data.
It lets you identify the sites visited by your competitors' site visitors.
Also, take a look at their browsing history and choices.
You will get to know about the YouTube video and channels where your competitor has enabled display ads.
Ahrefs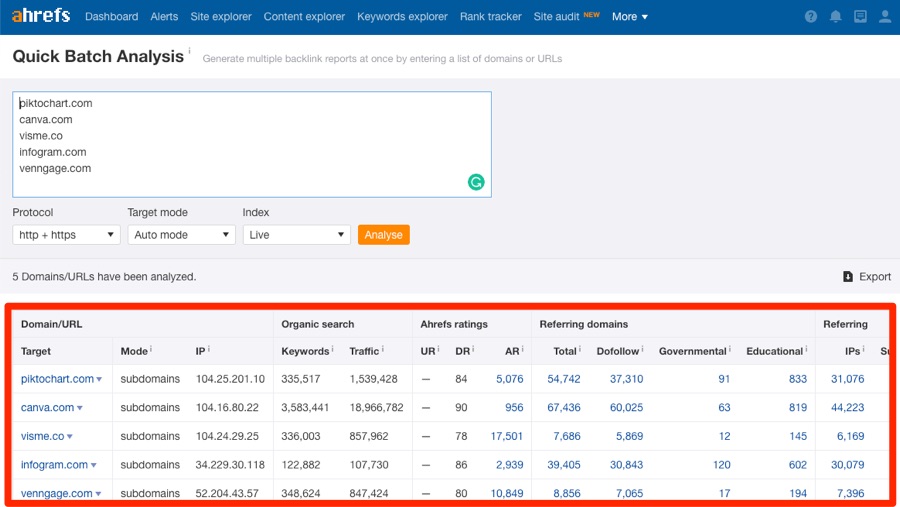 Its competitive analysis feature focuses more on SEO and content.
Ahrefs site explorer tool yields basic data regarding paid keywords and ad copy.
You can find out which keywords, URLs, and folders are deriving the highest organic traffic.
It also tells you about the content topics that are getting the highest engagement for competitors.
Find out the gaps in backlinks and recurring link sources.
6. Pricing
SEMrush
Ahref
The Final Verdict
You will have to study your brand and figure out the needs.
This way, you can decide which tool is suitable for your company.
Otherwise, you can try both and check which one can do your job better.
In this Ahrefs vs SEMrush guide, we made sure to clear your doubts and help you in deciding the right choice.
Still, in my view, SEMrush is a winner when we compared all the features.
It has more tools and features than Ahrefs but if your specific need is keyword research, SEO, and content optimization, no tool is better than Ahrefs.
We will suggest you take the 30 days free trial of SEMrush or Ahrefs first before using its basic or advanced features in the paid form.